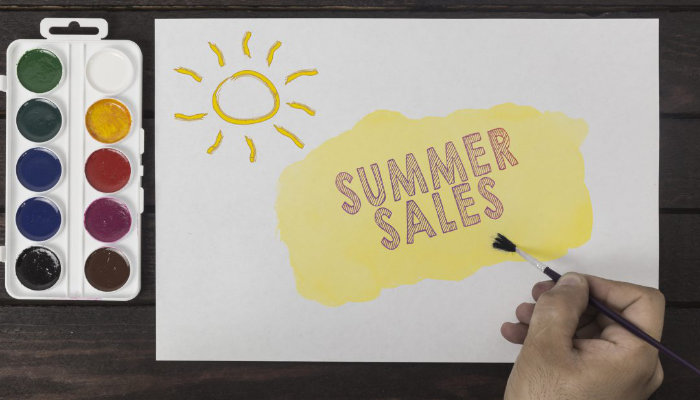 5 Marketing Tips for Slow Summer Sales
Traditionally, retail sales are at their lowest during the summer months of June through August. The good news for eCommerce retailers is that eCommerce can still have steady sales during these slow months. In July 2017, Fox Business reported that online retailers saw a small uptick of 0.4% in sales from May to June 2017, and overall growth of 9.2% for that year.Don't be discouraged by what you hear about eCommerce sales and summer. You can see positive gains reflected in your sales by implementing a few marketing strategies to ensure established customers keep returning and you gain new customers by capitalizing on trends and timing.Slow sales during the summer can be attributed to summer vacations, busy schedules, and consumers spending more of their money on experiences rather than things. By following these five easy marketing tips and keying in to the consumer mindset, you can post consistent sales throughout the year.
1. Run sales on Sundays and Saturdays
The Market Intelligence Blog states Sundays and Saturdays are the busiest days for online shoppers in the U.S. When sales are lagging, send an email blast to your subscribers for a flash sale on a Sunday or Saturday.If your budget allows, consider hiring a company to run your email marketing campaign. Specialists will know the best days and times to jump into customers' inboxes and what strategies to use to avoid customer cart abandonment.
2. Plan a social media contest
Chances are you've been tagged via social media for a social media contest before, or you've participated in one yourself. Running your own social media contest is an easy and quick way to grow your brand and get new followers, which means more customers and more sales. If you're new to social media contests, Hootsuite lists five strategies for a successful contest on their blog.
3. Discount popular summer items
Unless you live on the other side of the world, you wouldn't buy winter items during North American summer. Take a look at your inventory and see what customers are most likely to buy during warm months, and discount those items.If a little bit of discount is all consumers need to push buy, you can facilitate that extra push. Use your analytics to see what your most popular items are during certain times of the year and use that information to help guide which of your products to discount and when.
4. Bundle products
Another strategy for making certain items more attractive to consumers is to bundle specific products for an extra discount. You can use your analytics to help guide which products to bundle.You can do this to help push inventory that you want to clear out, or you can use it to sell more of your most popular items. Either way, it is a great way to incentivize customers when sales are slow.
5. Offer free shipping
Sometimes all eCommerce consumers need to go from cart to card is free shipping. Look at the success of Amazon Prime shipping for Examples A–Z. Offer free shipping to customers who spend more than a certain amount in order to push product and boost sales. Bonus: you have a friend who specializes in shipping.Summer sales don't have to be slow if you strategize which marketing tips to employ and when. You should get to enjoy your summer break as much as anyone else, and the peace of mind that comes from consistent sales will give you the break you need.